FM IF Filter
56kHz
With these ultra narrow filters, RDS reception is impossible, and strongly modulated stations are distorted and hard to understand. Therefor, the selectivity is fantastic.
Example
MuRata E10.7V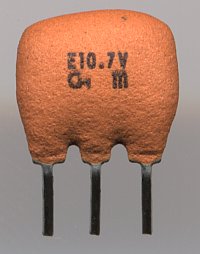 MuRata E10.7V
80kHz Standard
These very narrow filters allow RDS reception only on very strong stations; strongly modulated stations can be slightly distorted, but the selectivity is very good. If you don't need RDS, these filters might be the best compromise between selectivity and listening pleasure
Example
MuRata E10.7T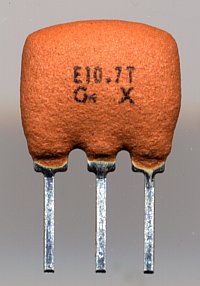 MuRata E10.7T
82kHz (= 80kHz Wide)
Those filters are quite rare, since they are actually "bad" 80kHz filters, which are just too wide. Their advantage is, that RDS can be decoded in most cases, while the selectivity is still very good. If you can get hold of them, don't hesitate - especially when you want to decode the RDS signals
Example
MuRata 10.7TY
110kHz
These filters are the smallest "regularily" available IF filters. The offer a quite good sensitivity and allow perfect RDS decoding. If you perform serious FM DXing, you should use filters not wider than these; only for HiFi puristy, they might be too small.
Examples
MuRata 10.7HB
MuRata 10.7HY
| | |
| --- | --- |
| MuRata 10.7HB | MuRata 10.7HY |
150kHz
Better HiFi receivers sometimes use 150kHz filters. They have hardly any impact on the sound and offer a fair sensitivity, but are not really suitable for DXers.
Example
MuRata E10.7J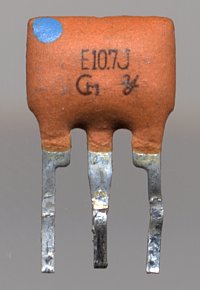 MuRata E10.7J
180kHz
These filters are standard equipemt in many radios and tuners. They are much to wide for DXing.
Example
MuRata E10.7S
? L10.7S
| | |
| --- | --- |
| MuRata E10.7S | ? L10.7S |