Citizen Promaster Automatic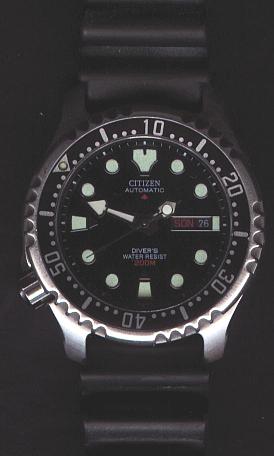 Citizen Promaster Automatic
If you want to buy a divers watch today, it's a tough choice: Either you buy one of those high-class watches, which you don't really want to use for water sports, of you buy one of those omnipresent russian divers, which are not really certificated for diving. Inbetween, there are a bunch of (more or less) noname divers with ETA 2824 movement inside and more or less the sace cases, dials and hands. And of course, there are the japanese divers from Seiko and Citizen.
Citizen still produces mechanical watches, but their share is minimal and it isn't impossible, that one day, they'll stop producing mechanical watches. This would be a pity, since Citizen with its caliber family 82xx doesn't have to be afraid of comparisons with swiss movements.
Manufacturer:
Citizen
Case:
Diameter: 42mm
Height: 12.5mm
Lug width: 20mm
Water Resistancy:
200m
Movement:
Citizen 8203 (inhouse)
23Jewels
Selfwinding
Functions:
h,m,s,w,d
Year of production:
1999
Price:
~150 EUR
Factsheet
There are no doubts on the seriousness of this divers' watch. She complys in every detail to what you expect from such a tool:
Unidirectional resting divers' bezel with luminous dot, dial with high contrast, vast use of luminous mass, massive stainless steel case and a screw-down crown. Its position at "8" shows, that the designers weren't just desktop divers, but experts knowledge was used here. On this position, the crown isn't just optimally protected against hits and smashes, she also doesn't poke into the back of the hand.
The readability is optimal unter all cirumstances. During the day, the dark dial offers perfect contrast to the silver/green hands, and at night, the luminously covered hands and the inconfusable indices offer perfect readability, too. And even the useful date with weekday matches harmonically and unobtrusivly with the dial. Only the hands should be a little bit longer. But that's a problem, which almost all watches, have got, too.
The flat mineral crystal lies fractions of a millimeter deeper than the divers' bezel and is so perfectly secured against damages. So, here, you also see the practical influences, which led to the perfect solution.
The screw-down stainless steel back and the woven strenghed rubber strap are state-of-the-art.
Unfortunately, the rubber strap is not very stable. After only four years, it got its first rift, and after further six months without wearing, one morning, when I put the watch out of the cabin, the strap fell apart into two parts. Fortunately, that did not happen, when I wore the watch in water.
| | |
| --- | --- |
| Summer 1999 | +0.4s/day |
| Spring 2001 | +6.5s/day |
| Summer 2002 | +3.4s/day |
| Summer 2003 | +0.8s/day |
| Summer 2004 | +0.73s/day |
| Summer 2006 | +-0.0s/day |
| Summer 2010 | +2.0s/day |
| Summer 2011 | +12.3s/day |
| Summer 2012 | +4.9s/day |
Accurancy results
The movement is flawless in its truest sense of the word. There's simply nothing to argue about. It is highly reliable, offers enough motion reserve even when just worn for a few hours, and runs as precise, as a movement in a ten times more expensive watch. Before the break-in phase, it ran with phenomenal +0.4sec/day, after three months, it lose a few seconds per day, was regulated and runs since that time a few seconds fast per day. Since every opening of the case might damage the gaskets, this watch wasn't regulated a third time.
The caliber 8203 is produced in the citizen subsidary Miyota and shall be the top ending of the mechanical movements, if the rumour are true. Regarding its construction, an unidirectional rotor winding mechanism, which can be hand-wound, too, offers the neccessiary power, which drives the hands by a 23 jewels movement with indirect central second. Its reserve is more than 36 hours, enough for a rainy day.
The movement is secured by a plastic spacer. This is not the most elegant solution but for a sports watch the best one.
To sum up, Citizen offers with the Promaster Automatic a truely perfect divers' watch. An inhouse movement, a perfectly crafted case and a most practical equipment, all that to a price, which presses tears in the eyes of the swiss manufacturers, that' something, others should offer, too.