Caravelle Digital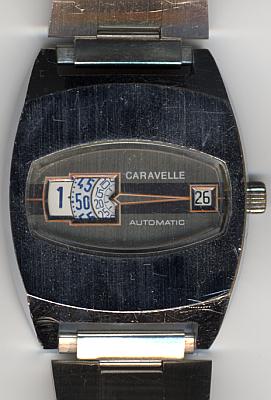 Caravelle Digital
In the early seventies, digital technics came into visibly our life. Pocket calculators with digital display promised precision and power, electronic digital watches formerly unknown rates.
Instead of the unsharp "almost half past seven", you could tell precisely "7:28 o'clock and 57 seconds". The fact, that digital watches are absolutely unusable, when you have to deal quickly with time frames, was discovered later. This was the reason, why digital watches soon disappeared from the wrists - except from those of mathematicans and computer scientists ;-)
The digital technics had a big disadvantage: It was too expensive for the consumers. And because of that and the fact, that people were longing for digital "precision", mechanical watches with digital displays came onto the market. These constructions were known long before, but hardly used, but now, digital watches were simply "in".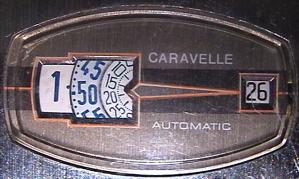 Dial view
A mechanical digital watch, regardless, whether powered by a good PUW movement or simpler EB pin-lever movements, were "in" and sold in many different shapes, colors and variants. They all had one thing in common: A bulky case and a small "dial".
On simple digital watches, the hours were changing slowly between the minutes 55 and zero, on better watches like this caravelle, it jumped at - more or less (it wasn't a Rolex Datejust) - full hour.



The movement was produced by the Pforzheimer Uhrenwerke (PUW). The caliber 1561 marked the peak and the termination of the movement fabrication in Pforzheim. In terms of reliability and power, it was at least as good as swiss movements at that time. The very well purring rotor (which was encoupled when you manually wound the watch) sounds still perfect and offers a contrast to the modern, cheap sounding ETA movements.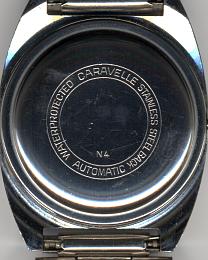 Back
Of course, the Caravelle Digital was water protected, too, but since the back was only pressed and the crown is moving very easyily, I wouldn't trust it. Despite that, for diving, a digital watch is not the right too, since it is lousy readable.