Donated watch: Junghans ladies` watch
The Junghans ladies' watch displayed here is a very personal donation by
Sigrid Schmiedel-Köster
. She belonged to her mother and was worn for a long time, as you see here on this photo:


In this watch, a
Junghans caliber 99/1
was used, a movement of the early 1950ies, which belonged to the better movements of german production.
It contains fifteen jewels, a double-sided Junghans shock protection system and a swiss-type pallet anchor lever escapement. The fact, that the watch still runs fine today, although she was worn for a very long time (the bleached dial shows this in a nice way), proves its quality.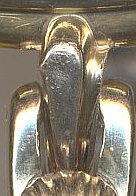 One half is missing!
Unfortunately, not long ago, this was was harmed a lot by a very amateurisch attempt to fix the original metal strap. The "watchmaker" not only ruined the original strap, but rasped away half of the lugs (and this even asymmetrically) to fix the new one. This not only ruined the looks (you can see now the raw metal instead of the golden case on the lugs) of the watch, but also reduced the stability of the lugs.
No wonder, that the owners of the watch no longer have pleasure with it.
But asides theseharms, this watch is a very nice contemporary item of the 50ies, where watches were still precision timing instruments and not just fashion goods. A watch of this area had to be worn for many years and even decades.
This watch design with its long central lugs originated from the USA of the 1940ies and after WW II, most ladies' watches used this design, which was popular until the beginning of the sixties.


Thanks a lot to Sigrid Schmiedel-Köster for that nice donation with history!