Bandscan Camping Marina di Venezia, Punta Sabbioni (VE), Italy, 2008
Freq.
Station
PS
PI
PTY
TP
EON
AF
Transmitter
Dist.
Power
Remarks
87.60 MHz
Easy Network

Dynamical PS code

NETWORK_

---

Non-static PS code violates the RDS specification!

E_A_S_Y_1
5361
Oldies
TP
AF
Valdobbiadene-Monte Barbaria (TV)
64 km
87.70 MHz
Radio Voce nel Deserto
Baone/Monte Cero (PD)
64 km
7.500 kW
tent., 90°, 56kHz, ital. nx mit Aussetzern
87.80 MHz
Val 202
SVN-Kuk
125 km
tent., slowenisch, ~90°
87.85 MHz
m2o
_M_DUE_O
5233
Varied
--
---
AF
Conco - Monte Rubbio (VI)
72 km
87.85 MHz
Radio 105 Network
_105_FM_
5211
Varied
TP
AF
Aviano-Castaldia (PN)
73 km
~330°
88.10 MHz
RAI Radio Uno (Reg. Veneto)

Dynamical PS code

__RAI___

---

Non-static PS code violates the RDS specification!

_RADIO1_1
52012
News
TP
AF
Monte Venda (PD)
61 km
150.000 kW
88.20 MHz
unid. (2008-08-16)
unid.
evtl. Radio Sorriso / Col Gaiardin, 56kHz, ital. px
88.40 MHz
Radio Padova
R_PADOVA
5360
Varied
TP
AF
Valdobbiadene-Monte Barbaria (TV)
64 km
88.50 MHz
RAI Radio Uno (Reg. Friuli Venezia Giulia)
Cividale del Friuli-Monte Purgessimo (UD)
109 km
1.000 kW
|| 97.7, also NICHT Radio 1 Veneto!
88.60 MHz
Radio Birikina
Baone/Monte Cero (PD)
64 km
ID
88.60 MHz
Radio Koper
SVN-Nanos
130 km
25.000 kW
tent., slowenisch
88.60 MHz
Radio Maria
Attimis-Località Porzus (UD)
109 km
5.000 kW
|| 94.45
88.60 MHz
Radio Piave-inBlu
Pedavena/Fiere Alte (BL)
79 km
tent., ital. Wort, nicht R.Maria, nicht R.Birikina, nicht R.24
88.70 MHz
Blu Radio Veneto-inBlu

Dynamical PS code

_VENETO_
SMS_346_
2320033_

---

Non-static PS code violates the RDS specification!

BLURADIO1
5A7F
Varied
TP
AF
Teolo/Monte Grande (PD)
61 km
88.80 MHz
Radio Piper
Caneva-Col Gaiardin (PN)
63 km
2.000 kW
ID, ~325°/90°
88.80 MHz
Radio Deejay
Segusino-Monte Pianar (TV)
63 km
ID, auf 88.85 gelogged, besser v
89.00 MHz
RAI Radio Due (Reg. Veneto)

Dynamical PS code

__RAI___

---

Non-static PS code violates the RDS specification!

_RADIO2_1
5202
M.o.R. M
TP
AF
Monte Venda (PD)
61 km
150.000 kW
89.30 MHz
Radio Deejay
_DEEJAY_
52142
Varied
TP
AF
Valdobbiadene-Monte Barbaria (TV)
64 km
2.500 kW
89.40 MHz
Radio 24
RADIO_24
5245
News
TP
--
Attimis-Località Porzus (UD)
109 km
15.000 kW
RDS nur partiell
89.60 MHz
RAI Radio Uno (Reg. Veneto)

Dynamical PS code

__RAI___

---

Non-static PS code violates the RDS specification!

_RADIO1_1
52012
News
TP
AF
Cima Forcella Mori (VI)
69 km
89.70 MHz
Radio 24
RADIO_24
5245
Info
TP
AF
Fregona-Piadera (TV)
61 km
anderer PTY als auf 89.4!
89.80 MHz
RAI GR Parlamento
Caneva-Col Gaiardin (PN)
63 km
mono, ital. nx, 56kHz
89.90 MHz
RAI Radio Tre

Dynamical PS code

__RAI___

---

Non-static PS code violates the RDS specification!

_RADIO3_1
5203
Culture
TP
AF
Monte Venda (PD)
61 km
150.000 kW
90.00 MHz
RAI Radio Tre

Dynamical PS code

__RAI___

---

Non-static PS code violates the RDS specification!

_RADIO3_1
5203
Culture
TP
AF3
unid.
90.10 MHz
Radio 105 Network
Modigliana/Monte Trebbio (FC)
151 km
ID, besser v
90.10 MHz
unid. (2008-08-16)
unid.
Oper, 56kHz, evtl. Radio Asolo??
90.20 MHz
Radio Oreb-inBlu

Dynamical PS code

*IN*BLU*
CON_VOI_
TEL_0444
35_60_65

---

Non-static PS code violates the RDS specification!

RADIOREB1
30C6
--
---
--
Conco - Monte Rubbio (VI)
72 km
mono, RDS nur partiell, da sehr schwacher RDS-Hub
90.20 MHz
Radio Deejay
_DEEJAY_
5214
Varied
TP
AF
Aviano-Bornass 2 (PN)
72 km
90.40 MHz
Bum Bum Energy

Dynamical PS code

ENERGY__

---

Non-static PS code violates the RDS specification!

BUM_BUM_1
5363
undef.
TP
AF
Conco - Monte Rubbio (VI)
72 km
90.50 MHz
Blu Radio Veneto-inBlu
Asiago (VI)
87 km
tent., ital. Werb., nicht RAI 1, 56kHz
90.65 MHz
Radio Pico

Dynamical PS code

INFO_A22

---

Non-static PS code violates the RDS specification!

_R_PICO_1
53F2
Varied
TP
AF
Conco - Monte Rubbio (VI)
72 km
evtl. auch tx Baone/Monte Cero, 17.5kW
90.70 MHz
Radio Fantasy
FANTASY_
53F9
Pop
TP
AF
Attimis-Località Porzus (UD)
109 km
90.80 MHz
Slovenija 1
SVN-Kuk
125 km
5.000 kW
tent., slowenisch oder kroatisch
90.90 MHz
Radio Company
COMPANY_
53502
Pop
TP
AF
Valdobbiadene-Monte Barbaria (TV)
64 km
100.000 kW
91.10 MHz
RAI Radio Uno (Reg. Veneto)

Dynamical PS code

__RAI___

---

Non-static PS code violates the RDS specification!

_RADIO1_1
52012
News
TP
AF
Belluno/Col Visentin (BL)
70 km
20.000 kW
91.20 MHz
Radio Kolbe-inBlu
Monselice-Monte Ricco (PD)
59 km
25.000 kW
ID, ~300°, 56kHz
91.30 MHz
Radio Birikina

Dynamical PS code

Radio_BK
*

---

Non-static PS code violates the RDS specification!

BIRIKINA1
536E
Varied
TP
AF
Lusiana-Monte Corno (VI)
81 km
PS mit SE200i gelogged
91.40 MHz
Radio Birikina

Dynamical PS code

RADIO_BK
*

---

Non-static PS code violates the RDS specification!

BIRIKINA1
536E
Varied
TP
AF
Fregona-Pian de Spina (TV)
64 km
andere Werbung als auf 91.3, besser auf 91.45
91.50 MHz
RAI Radio Uno (Reg. Friuli Venezia Giulia)
Trieste-Monte Belvedere (TS)
109 km
15.000 kW
|| 97.7, 90°
91.60 MHz
Radio Piterpan

Dynamical PS code

*

---

Non-static PS code violates the RDS specification!

PiTeRPaN1
5373
Varied
TP
AF
Valdobbiadene-Pianezze (TV)
63 km
PS mit SE200i gelogged
91.70 MHz
Radio Capital
Verona-Torricelle (VR)
111 km
tent., 230°, ital pubblicita
91.85 MHz
Radio Sorrriso
SORRRISO
5372
Varied
TP
AF
Conco - Monte Rubbio (VI)
72 km
92.00 MHz
Slovenija 1
SVN-Beli Križ
89 km
5.000 kW
tent., slowenisch oder kroatisch
92.10 MHz
RAI GR Parlamento
RAI_GRPR
5206
undef.
--
---
--
Conco - Monte Rubbio (VI)
72 km
keine AF
92.10 MHz
Radio Voce nel Deserto

Dynamical PS code

RADIO___
VOCE____
NEL_____

---

Non-static PS code violates the RDS specification!

DESERTO_1
5158
undef.
TP
--
Aviano-Castaldia (PN)
73 km
no AF
92.20 MHz
Radio Oreb-inBlu
Barbarano Vicentino (VI)
70 km
tent., ital. Schlager mx
92.40 MHz
Radio Venezia

Dynamical PS code

__RADIO_
VENEZIA_
SMS_335_
8081000_

---

Non-static PS code violates the RDS specification!

VENEZIA_1
53C1
Pop
TP
AF
Valdobbiadene-Pianezze (TV)
63 km
92.60 MHz
Radio Bellla & Monella

Dynamical PS code

*

---

Non-static PS code violates the RDS specification!

BELLLA__1
5370
undef.
TP
AF
Faedis-Località Valle Pedros (UD)
107 km
92.70 MHz
Radio Cooperativa

Dynamical PS code

TIVA____
TEL_____
049_____
8009020_
FAX_____
049_____
8000287_

---

Non-static PS code violates the RDS specification!

COOPERA_1
5158
TP
AF
Romano d'Ezzelino - Costalunga/Monte Grappa (VI)
66 km
92.80 MHz
Radio Cooperativa
Sarmede - Monte Castelir (TV)
61 km
tent., ital Wort, stereo, ~220°
92.90 MHz
Radio Deejay
_DEEJAY_
5214
Varied
TP
AF
San Donà di Piave (VE)
24 km
92.90 MHz
Slovenija 1
SVN-Nanos
130 km
50.000 kW
tent., slowenisch oder kroatisch
93.10 MHz
RAI Radio Due (Reg. Veneto)

Dynamical PS code

__RAI___

---

Non-static PS code violates the RDS specification!

_RADIO2_1
5202
M.o.R. M
TP
AF
Belluno/Col Visentin (BL)
70 km
20.000 kW
93.25 MHz
Radio Cooperativa
Padova/Via Tiziano Aspetti (PD)
44 km
tent., ital. relig./wort
93.35 MHz
Radio Sherwood
SHERWOOD
5332
Varied
TP
AF
Romano d'Ezzelino - Costalunga/Monte Grappa (VI)
66 km
mono
93.55 MHz
Radio Base-Popolare Network
Valdobbiadene-Pianezze (TV)
63 km
tent., mono, kein RDS, ital. Wort
93.60 MHz
unid. (2008-08-15)
unid.
wahrsch. Radio 24 / Col Gaiardin, ital. pop mx
93.75 MHz
Radio Padania Libera
Valdobbiadene-Pianezze (TV)
63 km
ID gehört, mono, kein RDS
93.80 MHz
Radio Piper
Caneva-Col Gaiardin (PN)
63 km
5.000 kW
ID
93.85 MHz
unid. (2008-08-15)
unid.
ID "Radio Bace", evtl. R.Piper, 93.8, Col Gaiardin
93.90 MHz
RTL 102.5
Faedis-Località Valle Pedros (UD)
107 km
|| 102.5
94.00 MHz
Radio Gamma 5

Dynamical PS code

_____049
700700__

---

Non-static PS code violates the RDS specification!

GAMMA_5_1
535F
undef.
TP
AF3
Romano d'Ezzelino - Costalunga/Monte Grappa (VI)
66 km
mono
94.20 MHz
Radio Bellla & Monella

Dynamical PS code

*

---

Non-static PS code violates the RDS specification!

MONELLA_1
5370
Varied
TP
AF
Galzignano Terme/Monte Peraro (PD)
59 km
besser v
94.30 MHz
Radio Company
Baone/Monte Cero (PD)
64 km
2.000 kW
ID
94.30 MHz
Radio Bellla & Monella
Caneva-Col Gaiardin (PN)
63 km
|| 94.2, 56kHz
94.43 MHz
Radio Maria
R_MARIA_
51CC
Culture
TP
AF
Romano d'Ezzelino - Costalunga/Monte Grappa (VI)
66 km
5.000 kW
94.60 MHz
Blu Radio Veneto-inBlu
Belluno/Col Toront (BL)
71 km
kein RDS, || 100.025
94.80 MHz
Radio Deejay
_DEEJAY_
5214
Varied
TP
AF
Conco - Monte Rubbio (VI)
72 km
95.00 MHz
Radio Stereocittà

Dynamical PS code

*CITTA'*

---

Non-static PS code violates the RDS specification!

*STEREO*1
520B
Varied
TP
--
Conco - Monte Rubbio (VI)
72 km
95.20 MHz
Radio Genius
Attimis-Località Porzus (UD)
109 km
|| 95.3
95.30 MHz
Radio Genius
R.GENIUS
519B
Varied
TP
AF
Conco - Monte Rubbio (VI)
72 km
12.000 kW
PS mit SE200i gelogged
95.30 MHz
RAI Radio Tre
Trieste-Monte Belvedere (TS)
109 km
15.000 kW
|| 95.5, 56kHz
95.50 MHz
RAI Radio Tre

Dynamical PS code

__RAI___

---

Non-static PS code violates the RDS specification!

_RADIO3_1
5203
Culture
TP
AF
Belluno/Col Visentin (BL)
70 km
20.000 kW
95.70 MHz
Virgin Radio
_VIRGIN_
5241
Varied
TP
AF
Conco - Monte Rubbio (VI)
72 km
96.00 MHz
Radio Company
COMPANY_
5350
Pop
TP
AF
Conco - Monte Rubbio (VI)
72 km
80.000 kW
96.10 MHz
Radio Piterpan
Faedis-Località Valle Pedros (UD)
107 km
|| 91.6, 56kHz
96.20 MHz
RMC Radio Montecarlo
_RMC_1__
5213
Varied
TP
AF
Romano d'Ezzelino - Costalunga/Monte Grappa (VI)
66 km
96.40 MHz
Radio 105 Network
_105_FM_
5211
Varied
TP
AF
Conco - Monte Rubbio (VI)
72 km
10.000 kW
besser v
96.70 MHz
Radio Metro'
_METRO'_
532A
Pop
TP
AF
Valdobbiadene-Pianezze (TV)
63 km
96.80 MHz
Virgin Radio
unid.
ID, 56kHz, tx: Col Gaiardin oder Col Toront
96.90 MHz
Radio Istra
R-ISTRA_
--
--
HRV-Ucka
140 km
80.000 kW
ID, ~100°, PS mit SE200i gelogged
97.00 MHz
Radio Bellla & Monella

Dynamical PS code

BELLLA_E
__ONDA__

---

Non-static PS code violates the RDS specification!

MONELLA_1
5370
Varied
TP
AF
Valdobbiadene-Monte Barbaria (TV)
64 km
97.20 MHz
Stella FM
*STELLA*
5286
Pop
TP
AF
Lusiana-Monte Corno (VI)
81 km
97.20 MHz
Radio Capital
Baone/Monte Cero (PD)
64 km
25.000 kW
|| 98.1
97.30 MHz
Radio Sorrriso
Valdobbiadene-Pianezze (TV)
63 km
|| 91.85
97.35 MHz
Radio Bellla & Monella
Mestre (VE)
17 km
|| 97.0, am besten v, 56kHz, ~340°
97.50 MHz
Radio Veneto Uno
VENETO_1
56EA
News
TP
AF
Valdobbiadene-Pianezze (TV)
63 km
97.70 MHz
RAI Radio Uno (Reg. Friuli Venezia Giulia)

Dynamical PS code

__RAI___

---

Non-static PS code violates the RDS specification!

_RADIO1_1
5401
News
TP
AF
Aviano-Castaldia (PN)
73 km
97.80 MHz
Radio Sherwood
Galzignano Terme/Monte Gallo (PD)
59 km
mono, kein RDS, || 93.35
97.90 MHz
Radio Sherwood
Venezia-Piazzale Roma (VE)
10 km
mono, kein RDS, || 93.35
97.90 MHz
Radio Voce della Speranza

Dynamical PS code

DE__AN??
????60??

---

Non-static PS code violates the RDS specification!

VO??0_??1
5000
Educate
--
---
--
Fregona-Pian de Spina (TV)
64 km
keine AF, RDS nur partiell
97.90 MHz
unid. (2008-08-17)
unid.
1.000 kW
56kHz, kroat/slow. px, NICHT Deejay/Sherwood
98.00 MHz
LatteMiele
Baone/Monte Cero (PD)
64 km
20.000 kW
ID, extrem schwach!
98.10 MHz
Radio Capital
_CAPITAL
5219
Varied
TP
AF
unid.
tx: Col Gaiardin oder Faedis
98.35 MHz
Radio Dimensione Suono
Jesolo (VE)
18 km
56kHz, auf 98.3 gelogged
98.40 MHz
Radio Top Oderzo

Dynamical PS code

255_33__
...

---

Non-static PS code violates the RDS specification!

TOPRADIO1
54C8
Varied
TP
AF
Fregona-Pian de Spina (TV)
64 km
niedriger RDS-Hub, dyn. PS nur unvollständig decodiert, besser v
98.50 MHz
Radio 101
Teolo/Monte Grande (PD)
61 km
|| 107.3
98.70 MHz
Easy Network

Dynamical PS code

NETWORK_

---

Non-static PS code violates the RDS specification!

E_A_S_Y_1
5361
Oldies
TP
AF
Teolo/Monte Grande (PD)
61 km
0.250 kW
besser auf 98.65 und v
98.80 MHz
RMC Radio Montecarlo
_RMC_1__
5213
Varied
TP
AF
unid.
tx: Col Gaiardin oder Attimis
98.90 MHz
Radio 105 Network
_105_FM_
5211
Varied
TP
AF
Venezia-Piazzale Roma (VE)
10 km
99.00 MHz
Radio Top Oderzo

Dynamical PS code

TOPNEWS_
TOPHITS_
VENETO_E
SMS_333_
2446032_
DIRETTA_
TEL.0422
TOP_NEWS

---

Non-static PS code violates the RDS specification!

TOPRADIO1
54C8
undef.
TP
AF3
Caneva-Col Gaiardin (PN)
63 km
dyn PS nicht komplett, teilw. mit SE200i gelogged
99.05 MHz
RMC2
Venezia-Piazzale Roma (VE)
10 km
ID "Due", 56kHz, 330°
99.15 MHz
Radio Base-Popolare Network
Mestre (VE)
17 km
tent., || 93.55
99.30 MHz
Radio Company
Fregona-Pian de Spina (TV)
64 km
0.500 kW
|| 96.0
99.30 MHz
Radio 101
Caneva-Col Gaiardin (PN)
63 km
|| 98.5
99.30 MHz
HRT-HR 1
HRV-Ucka
140 km
80.000 kW
tent., kroat. oder slow.
99.50 MHz
Super Star

Dynamical PS code

STAR____
99_5_MHZ

---

Non-static PS code violates the RDS specification!

SUPER___1
5494
undef.
TP
AF3
Romano di Ezzelino-Costalunga-Località La Gusella (VI)
68 km
99.65 MHz
Radio 105 Network
_105_FM_
5211
Varied
TP
AF
Fregona-Pian de Spina (TV)
64 km
99.80 MHz
Radio Dimensione Suono
*_RDS_*_
5264
Varied
TP
AF
Conco - Monte Rubbio (VI)
72 km
100.025 MHz
Blu Radio Veneto-inBlu

Dynamical PS code

_VENETO_
SMS_346_
2320033

---

Non-static PS code violates the RDS specification!

BLURADIO1
5A7F
undef.
TP
AF
Valdobbiadene-Pianezze (TV)
63 km
100.10 MHz
Radio Mater
Venezia-Piazzale Roma (VE)
10 km
|| 100.25, ital. Wort
100.15 MHz
Radio Palazzo Carli - inBlu
Caneva-Col Gaiardin (PN)
63 km
ID, mono, kein RDS
100.25 MHz
Radio Mater
R__MATER
5158
Religion
TP
AF
Sarmede - Monte Castelir (TV)
61 km
besser v
100.35 MHz
Radio Company
Jesolo (VE)
18 km
0.200 kW
tent, auf 100.3 gelogged, 56kHz, NICHT RVB
100.40 MHz
RMC Radio Montecarlo
Venezia-Piazzale Roma (VE)
10 km
ID, || 96.2
100.50 MHz
Radio Company
COMPANY_
5350
Pop
TP
AF
Teolo/Monte Grande (PD)
61 km
15.000 kW
100.60 MHz
Radio Valbelluna
_R_V_B__
5A44
Varied
TP
AF
Belluno/Col Toront (BL)
71 km
100.70 MHz
unid. (2008-08-17)
unid.
56kHz, Klavier mx, ~20°
100.80 MHz
RMC Radio Montecarlo
_RMC_1__
5213
Varied
TP
AF
Conco - Monte Rubbio (VI)
72 km
100.90 MHz
TPN Hit Energy

Dynamical PS code

_RADIO__
_T_P_N__
___HIT__
ENERGY__
*

---

Non-static PS code violates the RDS specification!

_T_P_N__1
5649
undef.
TP
AF
Aviano-Castaldia (PN)
73 km
100.95 MHz
Radio Venezia
Venezia-Piazzale Roma (VE)
10 km
ID
101.00 MHz
unid. (2008-08-16)
unid.
Leerträger, evtl. Gamma Radio ?
101.10 MHz
Radio Metro'
_METRO'_
532A
Pop
--
---
AF
Fregona-Pian de Spina (TV)
64 km
101.30 MHz
Radio Punto Zero Network
R.P.ZERO
5365
Varied
TP
AF
Caneva-Col Gaiardin (PN)
63 km
evtl. auch tx. Attimis, PS mit SE200i gelogged
101.50 MHz
Radio Italia SMI
Galzignano Terme/Monte Gallo (PD)
59 km
ID
101.50 MHz
Radio Vanessa
Venezia (VE)
9 km
ID
101.55 MHz
Radio Italia SMI
R_ITALIA
5220
Varied
TP
AF
Caneva-Col Gaiardin (PN)
63 km
AF u.a. 101.5
101.60 MHz
unid. (2008-08-17)
unid.
56kHz, ~0°, ital. pop mx, NICHT R.Metro!
101.70 MHz
Radio Belluno
Belluno/Col Toront (BL)
71 km
ID, besser v
101.80 MHz
Radio Piterpan

Dynamical PS code

*

---

Non-static PS code violates the RDS specification!

PITERPAN1
5373
Varied
TP
AF
Caneva-Col Gaiardin (PN)
63 km
101.90 MHz
Bum Bum Energy
Valdobbiadene-Pianezze (TV)
63 km
|| 90.4, besser v
102.00 MHz
Radio Dimensione Suono
Fregona-Pian de Spina (TV)
64 km
|| 99.8
102.00 MHz
RTL 102.5
RTL102_5
5218
Varied
TP
AF
Venezia-Piazzale Roma (VE)
10 km
102.10 MHz
RTL 102.5
Attimis-Località Porzus (UD)
109 km
|| 102.0
102.10 MHz
Radio Nuova Musica
unid.
tent., endlos mx, ~300-45°
102.20 MHz
Radio Centrale
Cesena-Luzena/Monte Cavallo (FC)
154 km
1.200 kW
ID, besser v
102.20 MHz
RTL 102.5
Mestre (VE)
17 km
|| 102.0
102.30 MHz
RTL 102.5
RTL102_5
5218
Varied
TP
AF
Conco - Monte Rubbio (VI)
72 km
102.50 MHz
RTL 102.5
RTL102.5
5218
Varied
TP
AF
unid.
diverse tx, evtl. Belluno oder Aviano, PS mit SE200i gelogged
102.70 MHz
Radio Ottanta
OTTANTA_
535A
Pop
TP
AF
Altavilla (VI)
77 km
102.80 MHz
Bum Bum Network
Vicenza (VI)
72 km
ID, ~220°, 56kHz
103.00 MHz
Radio Ottanta
OTTANTA_
535A
Pop
TP
AF
Valdobbiadene-Monte Barbaria (TV)
64 km
100.000 kW
103.10 MHz
unid. (2008-08-17)
unid.
56kHz, 330°, ital. px, Wort "Trieste", "Vito Caole"
103.20 MHz
Radio 101
Belluno/Col Toront (BL)
71 km
|| 98.5
103.25 MHz
Radio 105 Network
Galzignano Terme/Monte Gallo (PD)
59 km
ID, auf 103.3 noch empfangen
103.30 MHz
unid. (2008-08-17)
unid.
56kHz, 0°, ital. mx, nicht RDS, R.Oreb
103.40 MHz
Radio Dimensione Suono
*_RDS_*_
52642
News
TP
AF
Caneva-Col Gaiardin (PN)
63 km
5.000 kW
103.50 MHz
Radio Venezia

Dynamical PS code

*

---

Non-static PS code violates the RDS specification!

VENEZIA_1
53C1
Pop
TP
AF
Marghera-via della Pila (VE)
17 km
103.70 MHz
Radio Italia SMI
R_ITALIA
5220
Varied
TP
AF
Valdobbiadene-Pianezze (TV)
63 km
103.90 MHz
Radio Padova
R.PADOVA
5360
Varied
TP
AF
Teolo/Monte Madonna (PD)
62 km
135.000 kW
PS mit SE200i gelogged
104.10 MHz
Radio Marilu'

Dynamical PS code

*

---

Non-static PS code violates the RDS specification!

_MARILU'1
538A
Varied
TP
AF
Faedis-Località Valle Pedros (UD)
107 km
104.20 MHz
Radio Birikina

Dynamical PS code

RADIO_BK
*

---

Non-static PS code violates the RDS specification!

BIRIKINA1
536E
Varied
TP
AF
unid.
mehrere tx: Mt.Rubbio & Valdobbiadene
104.40 MHz
Radio 101
_R_101__
5215
Varied
TP
AF
Conco - Monte Rubbio (VI)
72 km
30.000 kW
104.50 MHz
Radio Ognjišče
SVN-Krvavec
188 km
100.000 kW
tent., ~60°, 56kHz, slow./kroat. Volksmusik
104.60 MHz
Radio Padania Libera
Muris-Monte di Ragogna (UD)
94 km
tent., ital. rock mx / wort, 270°, mono, kein RDS
104.70 MHz
Radio Radicale

Dynamical PS code

RADIO_*_

---

Non-static PS code violates the RDS specification!

RADICALE1
5210
News
TP
AF
unid.
tx: Col Toront oder Mte. Barbaria
104.70 MHz
HRT Radio Rijeka
HRV-Ucka
140 km
80.000 kW
tent., besser v, kroat/slow, stereo
104.80 MHz
Radio Italia SMI
R_ITALIA
5220
Varied
TP
AF
Maniago-Monte San Lorenzo (PN)
85 km
105.00 MHz
Radio Marilu'

Dynamical PS code

*

---

Non-static PS code violates the RDS specification!

_MARILU'1
538A
Varied
TP
AF
Conco - Monte Rubbio (VI)
72 km
105.10 MHz
Radio Capris
SVN-Podgrad/Slavnik (=Monte Taiano)
121 km
5.000 kW
ID "Radio Capri", 56kHz, ~90°, 80er mx, slow./kroat.
105.20 MHz
Radio Company
Attimis-Località Porzus (UD)
109 km
50.000 kW
|| 90.9
105.30 MHz
Radio Marilu'

Dynamical PS code

*

---

Non-static PS code violates the RDS specification!

_MARILU'1
538A
Varied
TP
AF
unid.
tx: Valdobbiadene oder Vittorio Veneto
105.40 MHz
Radio Radicale
Marghera-via della Pila (VE)
17 km
0.500 kW
|| 105.5, 56kHz, Laufzeitunterschied zur 105.5, ~0°
105.50 MHz
Radio Radicale

Dynamical PS code

RADIO_*_

---

Non-static PS code violates the RDS specification!

RADICALE1
5210
News
TP
AF
unid.
diverse tx, evtl. Aviano
105.60 MHz
RAI Radio Uno (Reg. Veneto)
Monte Pastello (VR)
123 km
|| 88.1, 56kHz
105.70 MHz
Slovenija 3
__ARS___
9203
undef.
--
EON
AF
SVN-Nanos
130 km
50.000 kW
105.80 MHz
Radio Capital
_CAPITAL
5219
Varied
TP
AF
Romano d'Ezzelino - Costalunga/Monte Grappa (VI)
66 km
106.00 MHz
AFN Eagle
AFNEAGLE
0000
undef.
--
---
--
unid.
tx: Aviano oder Mte Rubbio
106.20 MHz
LatteMiele
LATMIELE
5355
undef.
--
---
AF
unid.
tx: Belluno oder Mte. Rubbio
106.30 MHz
Radio 80
Aviano-Col del Lovo (PN)
74 km
50.000 kW
|| 103.0
106.40 MHz
Radio Dimensione Suono
*_RDS_*_
5264
Varied
TP
AF
unid.
tx unknown!
106.55 MHz
Radio Maria
R_MARIA_
51CC
Culture
TP
AF
Valdobbiadene-Monte Barbaria (TV)
64 km
mono
106.70 MHz
Hrvatski Katolicki Radio
HRV-Ucka
140 km
3.000 kW
56kHz, ~110°, ID "Katolicki Radio"
106.80 MHz
Radio 24
RADIO_24
5245
Info
TP
AF
unid.
tx: Caneva oder La Gusella
107.00 MHz
Radio Sorrriso

Dynamical PS code

*

---

Non-static PS code violates the RDS specification!

SoRrrisO1
5372
Varied
TP
AF
Conco - Monte Rubbio (VI)
72 km
mono, PS mit SE200i gelogged
107.10 MHz
Radio 24
Baone/Monte Cero (PD)
64 km
3.000 kW
ID, || 106.8, ~250°
107.30 MHz
Radio 101
_R_101__
5215
Varied
TP
AF
unid.
tx: Caneva oder Mte. Grappa
107.55 MHz
Radio Campagnola

Dynamical PS code

RADIO___
CAMPA___
GNOLA___
469923__

---

Non-static PS code violates the RDS specification!

CAMPA___1
A000
undef.
TP
--
Conco-Rubbietto (VI)
77 km
107.55 MHz
Radio Cafe
Galzignano Terme/Monte Gallo (PD)
59 km
ID, kein RDS?
107.80 MHz
Radio Metro'
Attimis-Località Porzus (UD)
109 km
|| 96.7, 56kHz, ~80°
107.90 MHz
Radio Company
COMPANY_
5450
Pop
TP
AF3
Lusiana-Monte Corno (VI)
81 km
(with tropo and Es receptions)
(without tropo and Es receptions)
Overview map


| | |
| --- | --- |
| Place of reception (QTH): | I-Camping Marina di Venezia, Punta Sabbioni, Bungalow 525 |
| Timeframe: | 2008-08-11 - 2008-08-21 |
| Log amount: | 156 |
| Number of received stations (incl. unid): | 74 |
| Number of received transmitters (incl. unid): | 53 |
| Number of received countries (incl. unid): | 3 |
| Number of received regions (incl. unid): | 15 |
| RDS receiption rate: | 53% |
| Samples: | 0 |
Empfangsqualität im Normalfall: (sort list by quality)
very good (RDS always error free)

good (RDS with some errors)

slightly distorted (mostly no RDS reception)

distorted reception (no RDS)

strongly distorted to almost impossible reception and/or ZF filter <100kHz required and/or 5 element yagi required

Tropo reception only

Sporadic-E reception
Anmerkungen:
---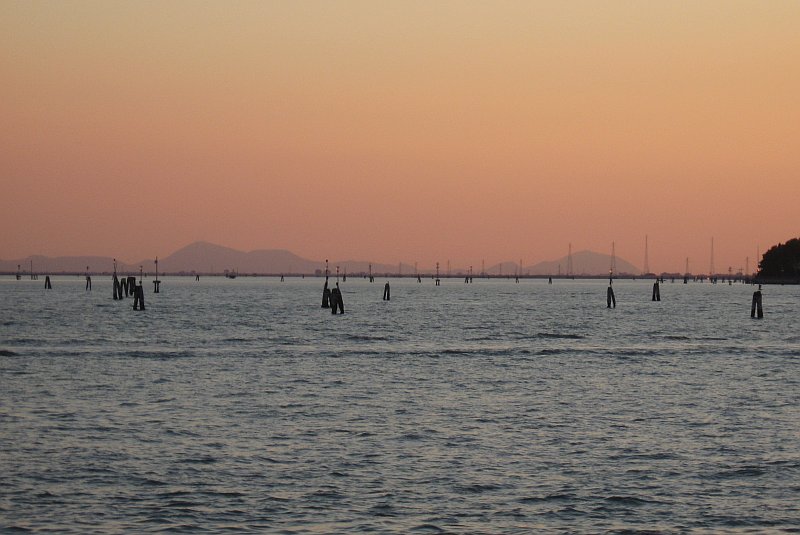 Abendstimmung: Ausblick von Venedig über die westliche Lagune auf die Colli Euganei (u.a. Monta Venda)

This bandscan was made in august 2008 in Camping Marina di Venezia, one of the largest and most beautiful camping and holiday hut sites in italy, which celebrated its 50th anniversary this year.

If you want to visit Venice and spend a few days on the warm and clean adriatic sea, this is the perfect location for you! Especially with children!